New Technology
Sputtering and Polymerization System SPP Series
integrated with Injection Molding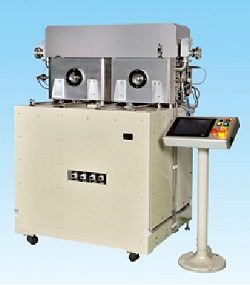 Outline
The new developed sputtering and polymerization system integrated with injection molding system SPP-SERIES enables fully automatic formation of metallic and protective films on resin substrates used in the automobile and decoration industries.
Features
Full automation
Fully automated system from injection molding to vacuum coating (sputtering and polymerization)
High speed coating
Cycle time: 80 sec (Al: 100 nm + SiOx: 20 nm)
High adhesion even without under coating
Applications
Head lamp reflector / Mirror
Decorative metal film
Specifications
Substrate size (max.)

W180 × L340 × D150 mm

Substrate materials

PC, PET, PP, PE, etc.

Sputtering rate

10 nm/sec

Polymerization rate

1 nm/sec

Pumping speed

within 30 sec from atmospheric pressure to 0.1 Pa

Vacuum system

RP + TMP

Cycle time of production

approx. 80 sec or less
from inputting substrate, through coating and polymerizing, to outputting

Reflectance

85% or higher, KOH 1% 10min

Chamber system

2 chambers system
(Sputtering chamber + Polymerization chamber)

Sputtering chamber

High efficiency type cathode (target size; 440 × 240 mm), 30kW DC power supply

Polymerization chamber

Polymerized electrode using glow discharge × 1, 750W RF power supply

Sputter materials

Al, etc.

Polymerized gas

HMDSO (for SiOx), etc.
*For the improvement of product, please understand that the specifications are subject to change without prior notice.
**This product may be applicable to export control products such as strategic raw materials which are regulated by the Foreign Exchange and Foreign Trade Control Law. Accordingly when you bring out the applicable products outside Japan. You should take a necessary action such as application of an export permit to the Government of Japan.